Fancy Captions allow you to create and customize open (burned-in) captions from your Script text directly in the video.
Adding captions
To add them, click on the Plus (+) button in the Insert toolbar and search for Fancy Captions, then press Enter.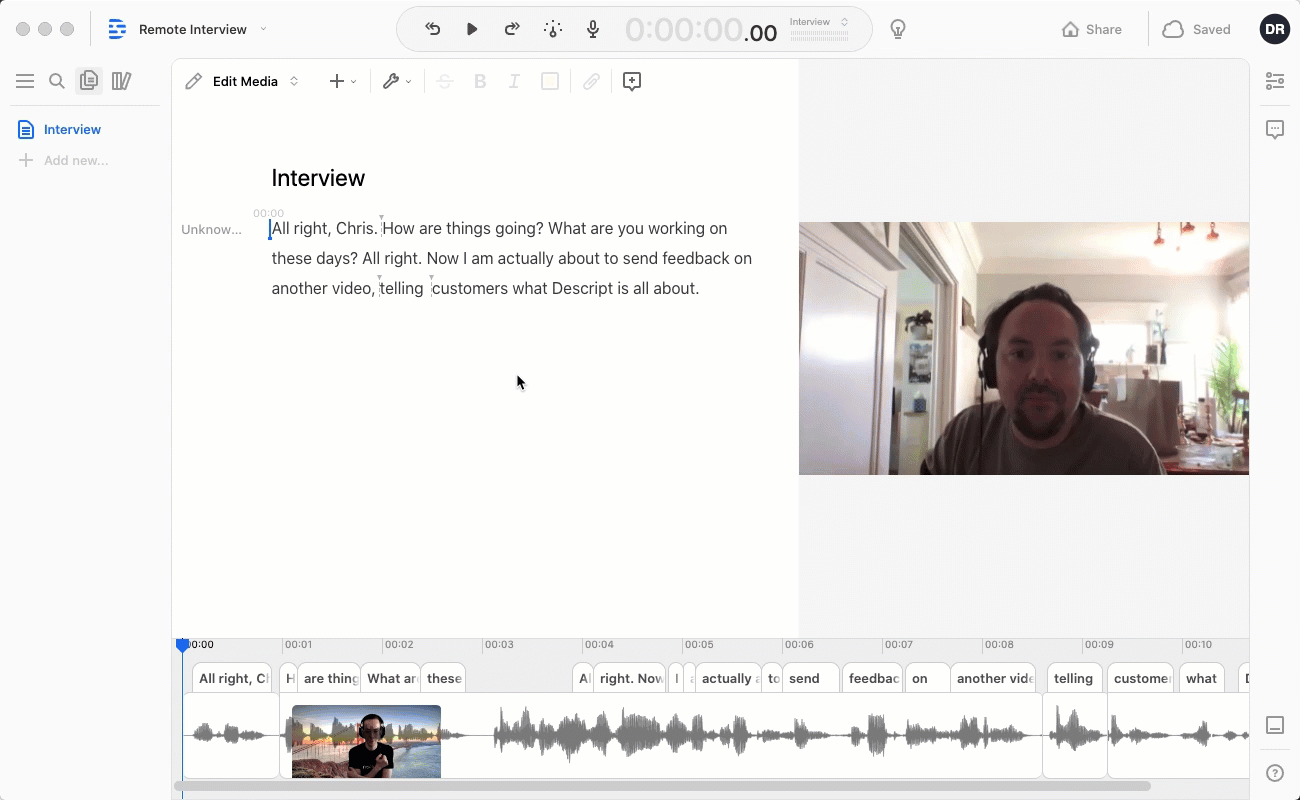 Adding to a selection
To add Fancy Captions to a selected area, highlight the selected region of text and use the keyboard Command + Shift+ K (Mac) or Control + Shift + K (Windows) to select the Fancy Captions option from the menu list. Once added, you can drag and extend the Fancy Captions track like you would any other media file in your timeline.
Adding to the entire script
If you want to quickly add captions for your entire script, click Edit > Select All before inserting the caption.
Adjusting the Caption Length in the Timeline
Once added, you can drag and extend the Fancy Captions track either from the beginning of the track, or the end of the track. This will extend the track to the right. If you want to position your Fancy Captions Track to the left of the timeline, move the entire track itself.
Adjusting Fancy Captions Settings
To make adjustments to the font size, colors and type, or add animation, right-click on the clip and select Show clip properties. You can also hover over the Fancy Caption's icon in the Script editor and click the settings icon to open up the same Clip Properties.
Word-Level Animations
From your Clip Inspector, you can enable and customize Word-Level Animations. This feature allows you to add and customize 3 types of color animation to your Fancy Captions:
Active word color
Future word color
Playhead (background) color
Removing Fancy Captions
You can remove Fancy Captions from either your Composition or Timeline. To remove Fancy Captions from your Composition, right click on the Fancy Caption Icon
and choose "delete track". You can also delete this icon like you would a word text in a document. From your Timeline, you can click on the top of the Fancy Caption track and enter backspace/delete, or right click to open the options to delete the track.
Frequently Asked Questions
What is the difference between Fancy Captions and Text Clips?
Fancy Captions are Text Clips that have Dynamic Text enabled and the parameter is set to Transcript. You can read more about Text Clips here: Add Text Or Captions To My Project